Catering Details
Catering at Mildert is organised through the central university so is the same standard as any other college, however at Mildert we have a regular feedback system between the students and the catering staff to continuously improve meal quality, allowing the college to strive to cater for the wants and needs of the student body.
Living in college your rental agreement includes full board, 3 meals a day during term time. During vacation time students may purchase individual meals (this option is also available for Livers Out during term time for those spending meal times in college).
Monday – Friday
Breakfast (8am – 10am)
Lunch (12pm – 2pm)
Dinner (5pm – 7pm)

Saturday and Sunday
Breakfast (8am – 11:30am)
Brunch (11:30am – 1:30pm)
Dinner (5pm – 7pm)
Dietary Requirements
College kitchen staff will do their upmost to cater for all forms of dietary requirements. Those students who require a special diet should contact the Head Chef, first year students are advised to write to the Senior Tutors ([email protected]) prior to their arrival explaining their requirements.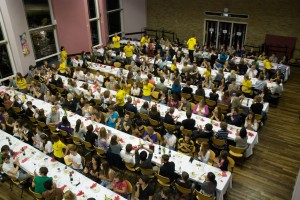 Formals, Balls and Early Tea
Formal dinners happen on a semi-regular basis, those who are not on the formal are provided with early tea, which is normally served between 5:15 and 6:15pm (to take away) due to the dining hall being set up for formals (or for a Ball which happen once a term).
Packed Meals
Available during term time. Students must sign up for these at reception by 2pm the day before. If you have any queries relating to meals in college please contact the Vice President, [email protected]